Swimming pool construction. With our staff of highly trained staff and our Pools Prefabricated, we can build a swimming pool in just 7 days of all the Sicilian territory
Swimming pool construction – I day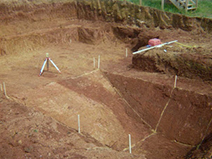 After tracing the perimeter of the pool on the ground we proceed with the excavation. The excavation operation also provides for the calculation of the space for the passage of the pipes up to the local technician. This is the first step for the construction pool
Swimming pool construction – II day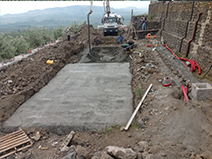 After performing the digging path and the shape of the pool, and scoring the base, for the construction of the pool, with the welded grid, then it passes to the jet of the bottom concrete with reinforced concrete according to the specifications necessary for the pool construction.
Swimming pool construction – III day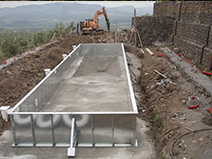 The third day we proceed with the assembly of prefabricated panels in steel or reinforced concrete in the pool and the various elements that the copongono, such as skimmers, pipes and all what Occor to the operation of the pool.
Swimming pool construction – IV day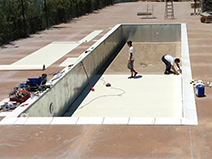 On the fourth day after completing the assembly of the swimming pool panels with its buttresses and the piping and accessories shall fill along the perimeter of the excavation to complete the external arrangement for flooring or other. After that you start to roll out the pool liner, reinforced PVC liner
.
Swimming pool construction – V day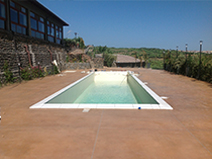 During the fifth day I come completed the works of drafting the Liner PVC amrmato and you start to fill our pools piscina.Le prefabbicate are coated with PVC ARMED LINER 1.5 mm with liner and not a single piece of PVC with a thickness of 75/100 (lot of pre-welded pVC) which carries the risk of detachments especially from the walls, or you may create folds in the cloth that will make difficult the subsequent filling.
This particular PVC, is used in recent years to coat the old and obsolete pools in masonry and with tiles, fiberglass pools and delicate formworks. Resistant to UV rays and to various special finish termiche.La excursions on the PVC liner visible surface ensures better resistance to light, the attack of any microorganisms (fungi / bacteria / spores) and sunscreen. All this allows easier cleaning and
longer duration of the swimming pool
Swimming pool construction – VI day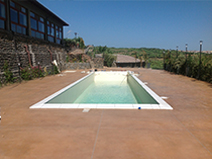 The sixth day is completed the filling of the pool and are tested all equipment supplied with the pool.
Swimming pool construction – VII day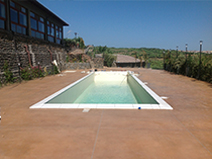 The seventh and last day of the construction of the pool is ready for use. Good fun
CONFIGURATOR POOL